Not only did we see gains for the 3rd day in a row on Monday, but the NASDAQ put in some strong breadth numbers. This triggered a study that looked at times Nasdaq advancers outnumbered decliners by more than 3:2 for 3 days in a row. It suggested such persistent lopsided breadth was about enough, and it was often followed by a down day. Updated results can be seen below.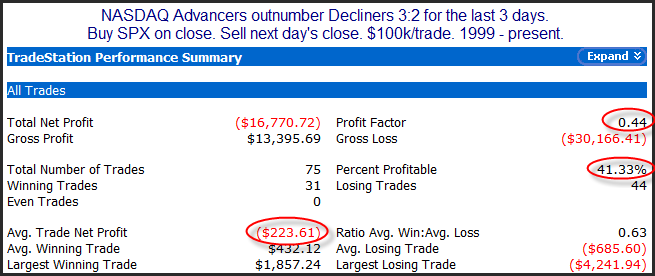 The numbers imply a downside edge. I also included the equity curve (which I normally only do in the subscriber letter).
It's definitely choppy, but it has moved from upper left to lower right for a long time. And I have shown this study for years, and it continues to make new lows. So I believe it is worth some consideration when establishing my bias for today.
Want research like this delivered directly to your inbox on a timely basis? Sign up for the Quantifiable Edges Email List.