For years I have written about the "weakest week". It is the week following the 3rd Friday in September, and it has been the worst week seasonally when measured over many time periods. I wrote about it in some detail recently in ProActive Advisor Magazine.
But this year we are seeing two weeks of selling before we even get to the "Weakest Week". So did the weakness arrive early this year, and are we more likely to see a move higher next week because of this? This is something I examined last year. Below I have updated the table showing all instances of 2 week selloffs heading into the Weakest Week, and then the Weakest Week return.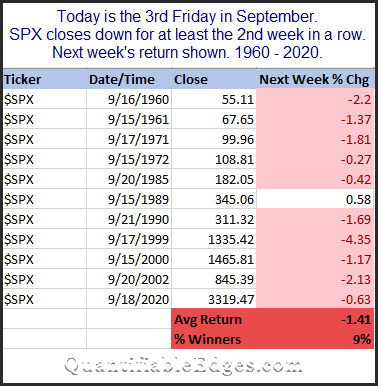 There have only been 11 instances. But 10 of 11 saw further selling in the Weakest Week. The lone winner (1989) only managed a 0.58% return. The average week of the sample saw a 1.41% loss. This is not encouraging for people hoping for a bounce next week.