Bonds have had their worst year ever by many measures. And September has the potential to be the worst month ever for several bond ETFs and indices. Below I am going to show the worst months of all time for a few bond ETFs.
First, IEF, (iShares 7-10 year Treasury Bond ETF).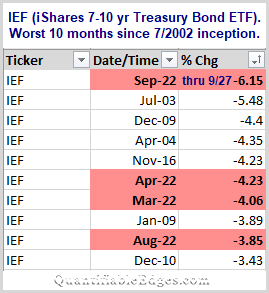 Four of the worst ten months ever for IEF occur in 2022 (so far).
Next, AGG (iShares Core US Aggregate Bond ETF)
Five of the worst ten months have come in 2022, including the 4 worst ever.
Lastly, let's check out the US Treasury 1-3 yr Total Return Index going back to 1990.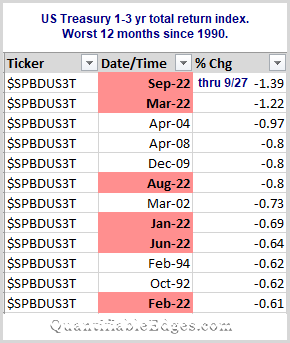 Six of the worst 12 months ever have occurred this year. No other year has more than 1 month on the list.
If you feel like your bond investments have been beating you up month after month this year…you're right.
Want research like this delivered directly to your inbox on a timely basis? Sign up for the Quantifiable Edges Email List.
How about a free trial to the Quantifiable Edges Gold subscription?