Yesterday I showed a VIX-related study that suggested it was so stretched to the upside that the market was likely to get a quick bounce. And we certainly got one on Monday. The VIX is a measure of options pricing and is often referred to as a "fear index". It saw a 13% drop on Monday. Meanwhile, the VXO, which is the old calculation of the VIX declined nearly 23%. Such big declines often suggest short-term over-optimism on the part of traders and are followed by a dip the next day. This can be seen in the study below.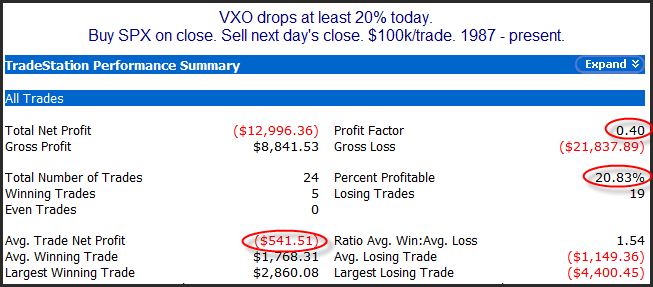 Numbers here suggest a downside edge for Tuesday. I'll note that there are some other studies I am seeing that show short-term bullish inclinations. But the way the VIX and VXO are jumping around, we certainly seem to have entered an emotional, reactive market environment. Such environments can be prone to whippy action. Traders should anticipate a market that is much different than the quiet, tight ranges we experienced from mid-July through early September.
Want research like this delivered directly to your inbox on a timely basis? Sign up for the Quantifiable Edges Email List.