While SPX and NDX posted small gains last Thursday, the Russell 2000 is now down 7 days in a row. I decided to examine past instances where RUT closed down 7 days in a row and under the 200ma.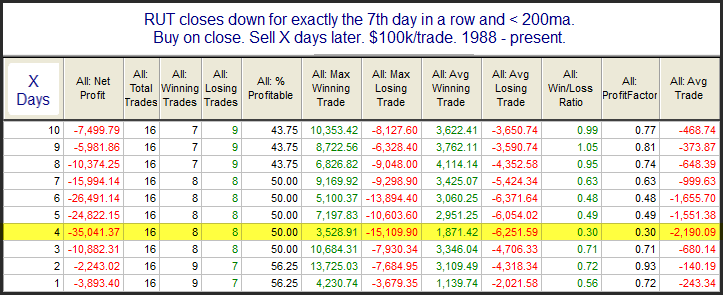 If you were hoping that 7 consecutive down days put the market so oversold that it "had" to bounce, well, these results would be disappointing. Winners to losers has been basically 50/50 but the losers have been substantially larger. Below is a look at all the instances and their 4-day results.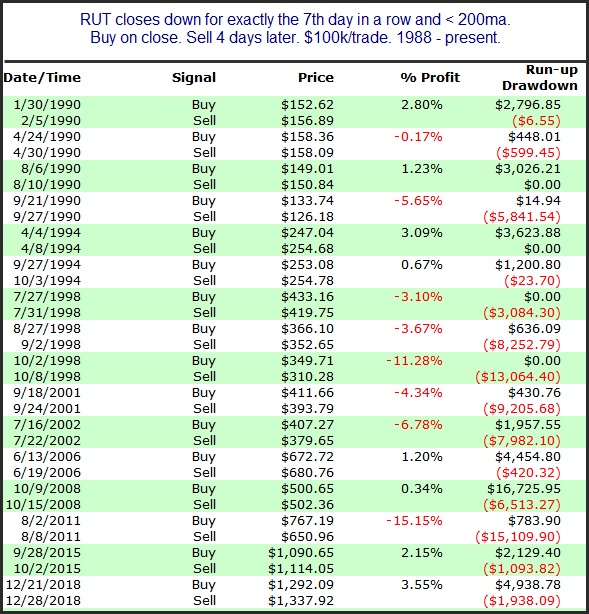 Quite a few sizable declines in the mix here. The average drawdown over the 4-day period for all 18 instances was 4.6%, and the average run-up was 2.7%. In other words, volatility was high. Seven down days for RUT does not seem to assure us of anything, other than perhaps some additional volatility.
Want research like this delivered directly to your inbox on a timely basis? Sign up for the Quantifiable Edges Email List.
How about a free trial to the Quantifiable Edges Gold subscription?